Do you want to have a three week permagrin? 
Spend three weeks as a beach bum in Sayulita, Mexico. Then be prepared to have "I love my life!" slipping into your thoughts as you walk along the beach watching the waves roll in.
When my husband and I were planning two months in Mexico this winter, making Sayulita our first stop was an easy choice. Our goals were to ease into our new lifestyle of travel, recover from a hectic fall season, get into healthy routines, and try out beach bumming.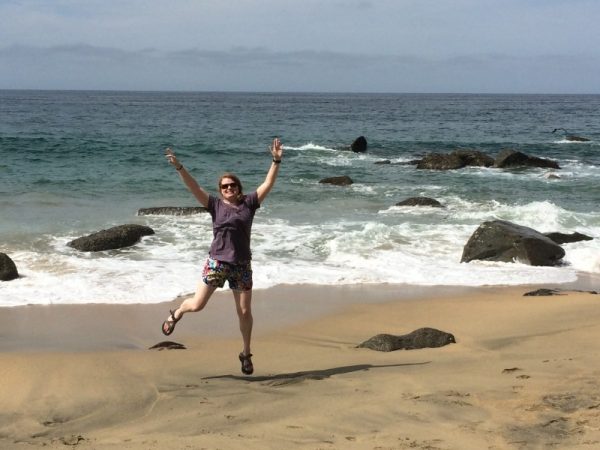 So, why Sayulita?
Sayulita, pronounced say-oo-li-ta, is a little surf town about 25 miles north of Puerto Vallarta. Kent and I stumbled on this little magical town three years ago when looking for a remote beach resort. After a couple days at the resort, we walked to town and found this friendly magical place. It is a little bustling town with endless small shops and restaurants. It is a place where foreigners and Mexicans alike come to vacation.
The Sayulita Vibe
It is difficult for me to put my finger on the Sayulita vibe. Is it the friendliness of the locals, where each passerby greets you with "hola" or "buenos días"? Or is it the bustling cobblestone streets and many colorful shops squeezed together on each block? Or is it the easiness of life where each day includes a walk through the central square and ends watching the sunset on the beach? Maybe a mix of all the above.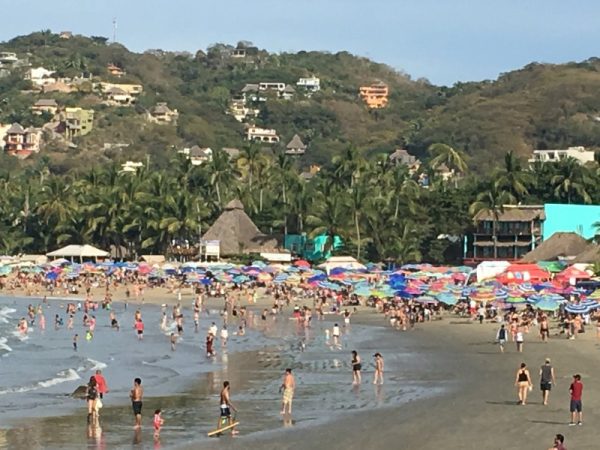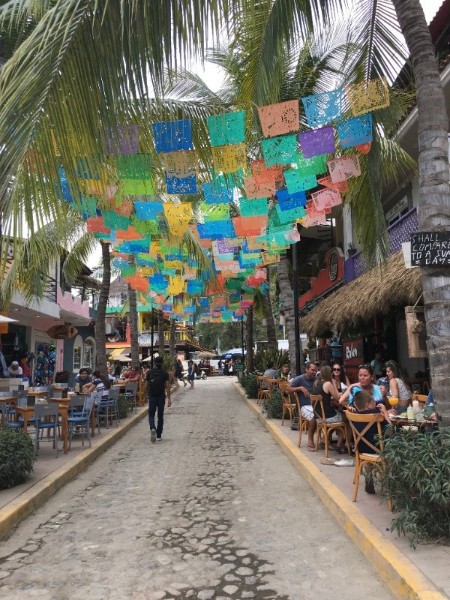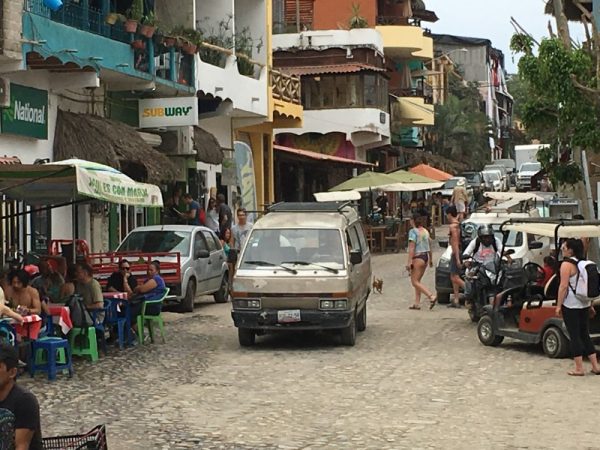 A Day in the 'Sayulita' Life
For me, a typical day as a beach bum in Sayulita included waking up at 8:00 a.m. to the crowing roosters, drinking a liter of water, taking a couple of Duolingo Spanish lessons, spending a few minutes on my yoga mat, and ensuring my translucent white skin has enough sunscreen applied. For Kent, his morning begins with coffee and his e-Edition newspaper on the roof.
Next, we head to Centro via the cobblestone street called Pelicanos. This usually includes either a stop at Casa Gourmet, the French patisserie to split a chocolate croissant, or Coffee on the Corner for Mochas. The day also includes a stop on the beach to watch the surfers and the waves.
I often spend the middle of the day out of the sun working on my writing. Kent often takes long walks up in the jungle or along the beach, and also spends time drawing. One of Kent's highlight moments was meeting a local artist named Ishmael in the town plaza. Kent did a drawing for Ishmael who then gave Kent a beautiful painting in exchange.
My favorite treat in the afternoon is my homemade guacamole and corn chips before cooking an early dinner. The early evening often includes a game or two of Yahtzee or Cribbage on the rooftop or a long walk on the beach during sunset. We usually end our days with a movie using the Amazon FireStick I finally remembered to pack.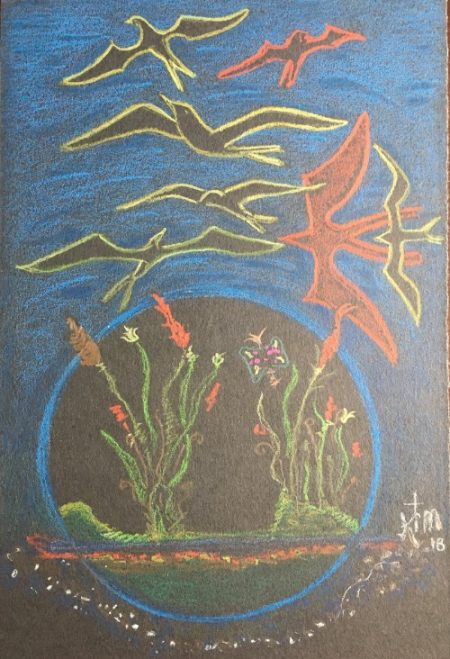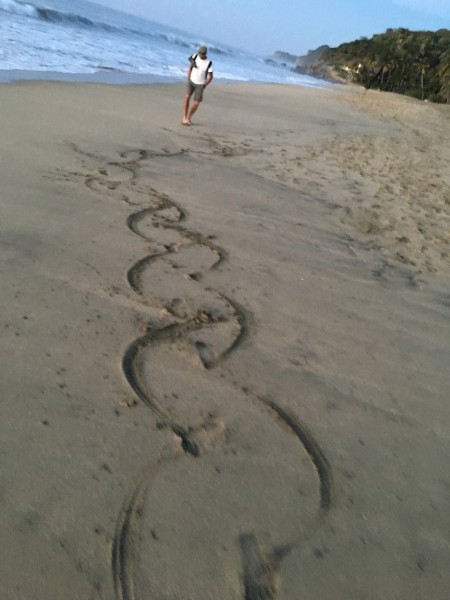 Boomtown
One of the constants of Sayulita is its continuous progress and change. In the three weeks we were in Sayulita, we saw dozens of buildings in various stages of construction, we saw the finishing touches on a new coffee shop that opened a few days before the end of our stay, and we saw our neighborhood grocery store install a computerized register. Our last visit to Sayulita was a year ago, and the changes we saw in just a year were amazing. The popularity of Sayulita is definitely growing, but I believe it is still small enough to maintain its small town charm for years to come.
An Ideal Place for Learning to Surf
Every time I end a trip to Sayulita, I tell myself I'm going to take surfing lessons the next time I come. Sayulita beach is the perfect place to learn to surf. It has predictable waves of various sizes that are not too tall or intimidating. There are many surf schools to choose from and there is usually always a lesson taking place. It is fun to watch a new surfer whoop in delight catching their first wave. I say "Next time, I promise."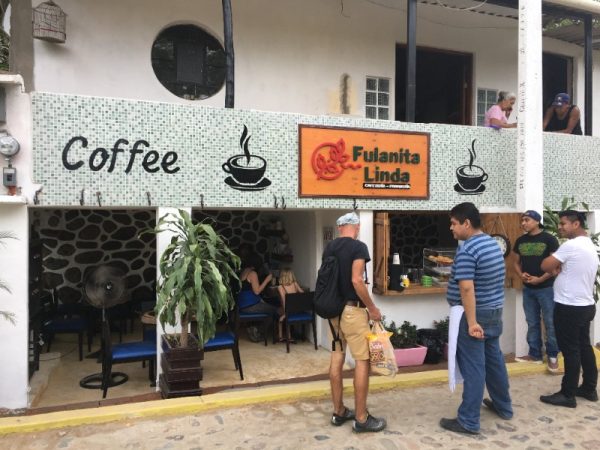 Night Life and Other Events
Though we stayed in most nights, Sayulita has a vibrant night life. Most restaurants have outdoor seating where you can expect to be entertained by street performers. The performances include music and dancing. My favorite was a woman who performed a hula hoop fire dance. There is also live music in the town square most evenings.
The Festival Sayulita is an annual event and was scheduled for our last full weekend in Sayulita. One of the venues was a few blocks from our apartment and we were entertained from our rooftop patio.
Every Friday there is Mercado del Pueblo, an organic farmer's market that also includes arts, crafts, and live music. This reminded me of Eugene's Saturday Market but on a much smaller scale and with the culture and food of Mexico. This is a favorite among the expatriates.
Good Eats
Kent and I mostly cooked our own meals, but we ate out a few times. There are dozens of restaurants in Sayulita and we wouldn't be able to get to all of them even if we tried. There are many restaurants with authentic Mexican food, but there are also some international flavors, including Italian, Greek, Spanish, and American. There are also a few vegetarian options. Sayulita is also a fishing town, and most restaurants include seafood on the menu.
I already mentioned our visits to Casa Gourmet and Coffee on The Corner. Another of our stops was at Mamma Mia, a wonderful Italian restaurant in the heart of town. Homemade ravioli is Mamma Mia's specialty and Kent and I were groaning with pleasure with each bite. Kent had the mushroom ravioli and I had the pear stuffed ravioli. Another highlight for us was Don Juan's Restaurant. According to online reviews, Don Juans is likely the highest rated restaurant in Sayulita, and Kent and I were not disappointed. Kent still dreams about his pork medallions. I had the shrimp enchiladas, and every flavorful bite included savory shrimp.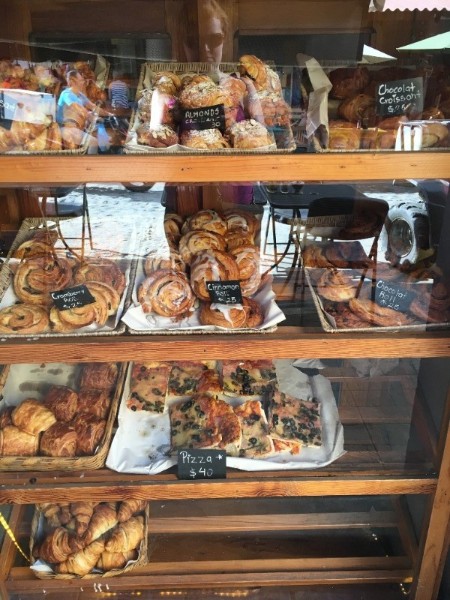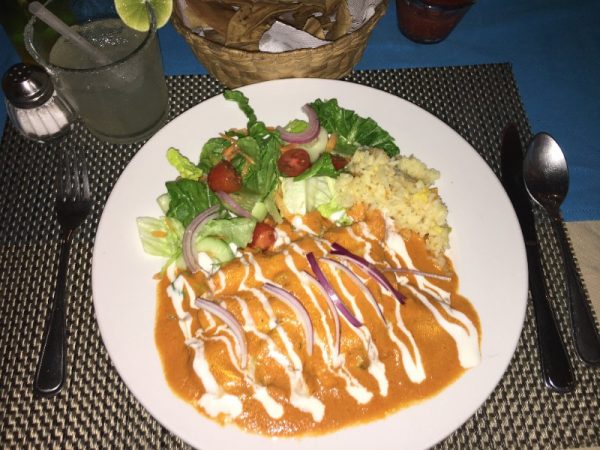 Where to Stay
When we travel, I mostly book our lodging through Airbnb, and this trip was no exception. There are hundreds of Sayulita listings in multiple price ranges. There are listings near the beach or with an ocean view, and there are listings in the center of town or in the surrounding neighborhoods. There are also longer term rentals that you can find at sayulitalife.com. The apartment we booked was about $40 USD per night and owned by a local family. The apartment building had two apartments and a rooftop patio. It was in a neighborhood that was about a 10 minute walk from the town center. The kitchen was outside, which was fun, and included an oven range, sink, and refrigerator.
Getting There
The nearest international airport is in Puerto Vallarta (PVR). There are fairly low cost flights from the West Coast, and the flights are fairly short. A non-stop flight from Portland, Oregon (PDX) to PVR is just under 4.5 hours long. You can either take a 30 minute taxi ride to Sayulita for about $40 USD or take an hour bus ride for $3 USD. We opted for the bus. The bus can get a bit bumpy, but we don't mind.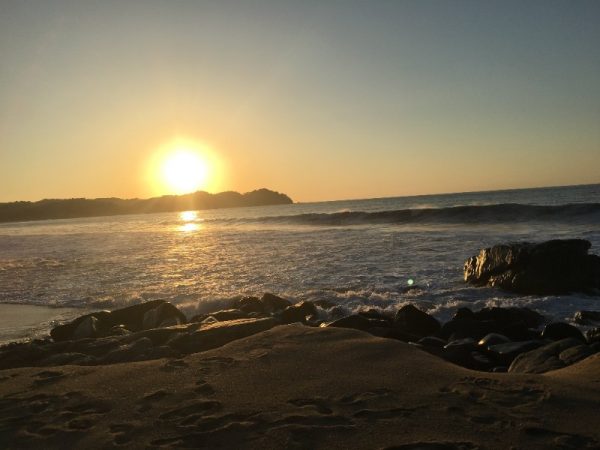 A Successful Experiment
Okay, maybe we weren't exactly beach bums, but we definitely ended our three weeks in Sayulita much more relaxed and in better health than when we arrived. Sayulita is definitely easy living. I think Kent succeeded and spent way more time on the beach than I did. However, I did make great progress in starting my new lifestyle with a consistent routine that included a good amount of exercise and eating well. I also made good progress on my website project, and Duolingo says I'm now almost 40% fluent in Spanish! We also succeeded in maintaining our permagrins and the feeling that we are blessed with this wonderful life we have created for ourselves.
Y Tú?
Do you have an upcoming vacation or adventure planned? What is your dream destination? Maybe you're not into travelling or adventure. If you are, spend some time today dreaming about your next vacation or adventure and share what you come up with in the comments below. 
Adiós mis amigos,
Shanda